Production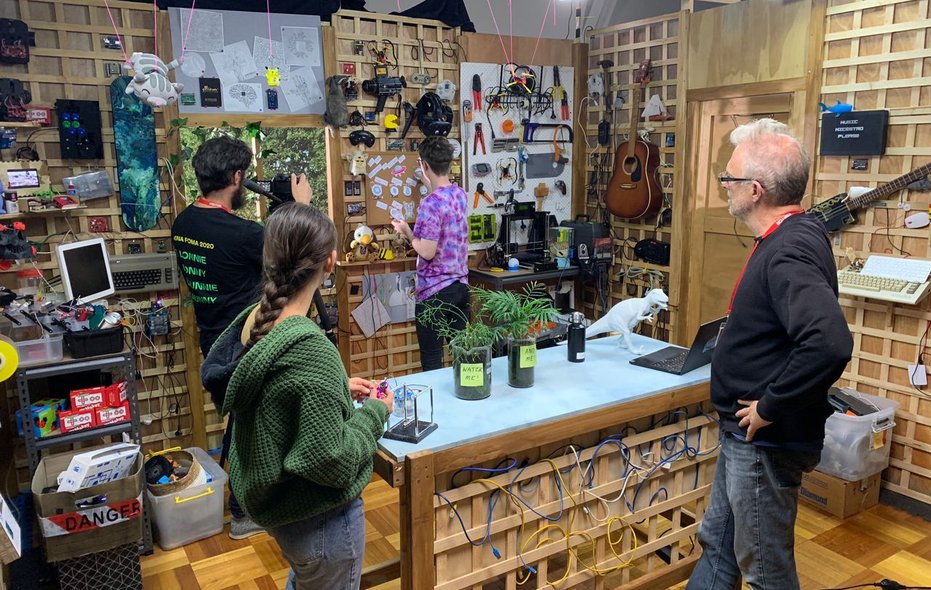 Compelling Content for Education
At Bitlink, we love creating content for schools, teachers, parents and students, which help young people understand complex subjects in a fun and accessible way. We have built a strong creative team around educational content production and assembled a portable studio that we can use to film video and audio on-location anywhere in Australia. In the past twelve months, our creative team have worked on two major projects: Makers Treehouse and a series of IoT documentaries.
Welcome to the Makers Treehouse!
In late 2020, the Bitlink team created a series of short videos to accompany the lessons we'd built for our Internet of Things (IoT) Kit. We called the series Makers Treehouse, and in it, four teenagers - Alex, Chewie, Eva, and Nick - solve problems and build gadgets using the sensors, motors, and other devices in the Bitlink IoT Kit. In total, there are 20 episodes of Makers Treehouse, which are arranged across four themes: Introduction to IoT, Smart Homes, Smart Farms, and Smart Cities.
Episode 1.1: Meet micro:bit
In this episode, Alex and Chewie receive a mysterious kit via the treehouse's pulley system. They open it up to see what it can do.
Episode 2.3: Automatic Pet Feeder
In this episode, which can be found in the middle of our second module, Chewie and Eva create an automatic pet feeder using a motion sensor, a servo motor, and some basic crafting supplies.
The IoT Documentaries
Alongside the Makers Treehouse web series, the Bitlink team have developed a series of short documentaries which introduce many of the ideas that we focus on in our Internet of Things (IoT) lessons. Each documentary introduces one of our four modules (Introduction to IoT, Smart Homes, Smart Farms, Smart Cities) and focuses on how real people in industry and government use IoT devices in their daily lives.
Episode 1: What is the Internet of Things?
In our introductory documentary, we meet Mike Cruse from Definium Technologies, Georgie Armstrong from Gretel Analytics, Jarred Ranson from the Launceston City Council, and Richard Gardener from Annandale Dairy and learn about how they all use the Internet of Things in their businesses.
How to Use These Videos
You can find all of these videos on YouTube. If you'd like to use these in your classroom, please feel free! However, the best way to use these videos is by combining them with our IoT lessons and the Bitlink Internet of Things Education Kit.
If you want to give that a go, sign up as a teacher, check out the resources, and if you like what you see, consider buying some of our kits for your school.
Working With Us
We're always looking for opportunities to work with educators, school districts, universities and others on educational content production projects. If you have a project that you're interested in exploring with us, please don't hesitate to get in touch. We'd love to hear from you!